4 Pics 1 Word Answers
All answers to all levels of the game 4 pics 1 word:









We are sure you have found the answer you were looking for because we keep the game always updated, but if not you can leave us a comment and we will try to help you.
4 pics 1 word is the number 1 word game with more than 300 million players worldwide, and in 9 different languages.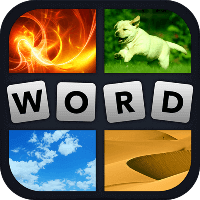 4 pics 1 word FAQ
How can I find the solutions?
The order of the levels in this game is random, you can find the solution by counting the number of letters in the answer word. Here you have all the answers ordered by number of letters.
What is the game about?
At each level you are given 4 pictures and you must discover the common word that these four pictures have.
How many levels does the game have?
Don't worry if the game is going to end because there are more than three thousand levels so the fun never stops. In addition, new levels are added to keep you enjoying yourself.
How difficult is the game?
There are easier and more difficult levels, especially as you progress but from here we will help you.
How can I play 4 pics 1 word?
You can play right now, just download the game and start, it's free to play, what are you waiting for?
Playing is not only fun and addictive, it also helps you exercise your brain and practice vocabulary.
How can I download the 4 pics 1 word game app?
Here are the links to download the game for both Android and iOS devices. Select your device type and play:
We hope you are enjoying yourself, and wish you a life full of fun and happiness.